Description
Additional information
Brand
Description
Voopoo Doric 60W
Voopoo Doric 60W Specifics:
Brand: Voopoo
Model: Doric
Type: Pod/ Pen
Dimensions: 26.55 x 113.45mm
Materials: Metal
Battery: Built-in
Capacity: 2500mAh
Maximum power: 5-60W
Output voltage: 3.2-4.2V
Chipset: GENE.TT
Tank: PnP
Capacity: 4.5ml
Resistance: 0.2ohm(PnP-VM5, 40-60W), 0.3ohm(PnP-VM1, 32-40W)
Charging: Type-C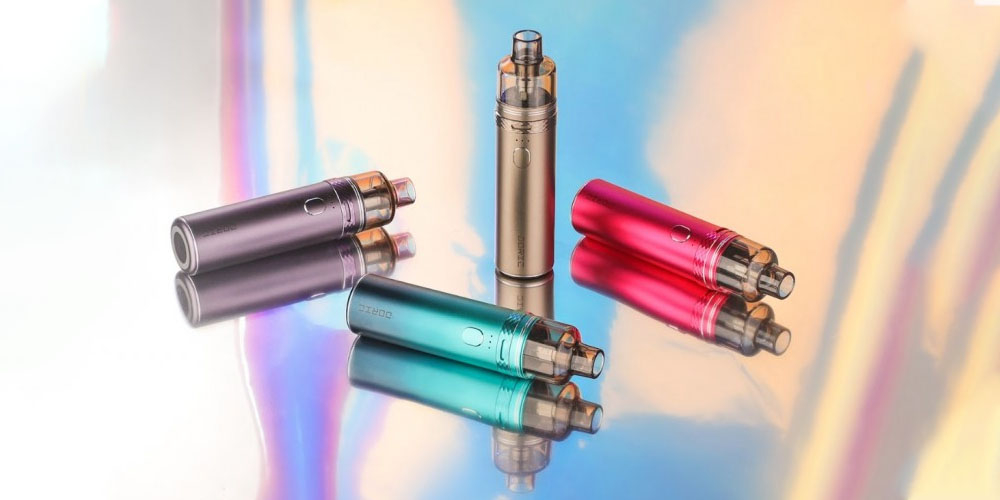 Details:
Introducing the Voopoo Doric 60W, a remarkable pod system that combines sleek design with impressive features.
Firstly, this device comes in four stunning satin colors, each leaving a beautiful effect on the Doric 60 pod.
Additionally, the ergonomic design of the Doric 60 ensures a perfect fit in your hand, enhancing comfort and ease of use.
Equipped with a built-in 2500mAh battery, the Doric 60 provides long-lasting vaping sessions without the need for frequent recharging.
Moreover, thanks to its innovative GENE.TT chipset, this pod system delivers a maximum power output of 60W, allowing for intense and flavorful vapor production.
Notably, the Doric 60 is also compatible with the widely popular PnP coils, offering versatility and customization options for vapers.
With a capacity of 2ml or 4.5ml, depending on the pod used, the Doric 60 caters to vapers with different preferences.
Furthermore, its light weight design makes it convenient to carry around, ensuring that you can enjoy your vaping experience wherever you go.
Impressively, the device offers two modes: Auto and Bottom, allowing users to choose their preferred method of activation.
Featuring LED lights for three gears of power control, the Doric 60 enables users to easily adjust their vaping experience to suit their preferences.
Additionally, its innovative infinite airflow system provides precise airflow control, catering to both direct-to-lung (DTL) and mouth-to-lung (MTL) vaping styles.
Moreover, switching between DTL and MTL is convenient and hassle-free.
The Doric 60 is equipped with a 2500mAh battery that supports 1.6A type-C fast charging, ensuring quick and efficient recharging.
Furthermore, the GENE Chip brings a power range of 5W to 60W, offering a wide spectrum of power options to suit different vaping needs.
Notably, the device comes with PnP-VM5 and PnP-VM1 coils, providing excellent flavor and vapor production.
Moreover, safety is a priority, and the Doric 60 incorporates various protections.
Including output over-current protection, over-discharge protection, maximum power protection.
And also short-circuit protection, overtime protection, over-temperature protection, and overcharge protection.
Best for all Vapers
In conclusion, the Voopoo Doric 60W is an exceptional pod system that combines style, functionality, and safety.
In summary, with its sleek design, versatile coil compatibility, long-lasting battery, and precise airflow control, it offers a superior vaping experience.
Ultimately, the innovative features, such as LED power control and infinite airflow, enhance customization options for vapers.
Consequently, whether you prefer DTL or MTL vaping, the Doric 60 caters to your needs. Additionally, the device prioritizes safety with its range of protective features.
Overall, the Doric 60 is a reliable and efficient pod system that ensures an enjoyable and satisfying vaping journey.
Packing Items:
Doric 60 Device
PnP Pod (4.5ml)
PnP-VM1 0.3ohm Coil
PnP-VM5 0.2ohm Coil
Type-C Cable
User Manual
Additional information
| | |
| --- | --- |
| Color | Aurora, Deep Purple, Khaki, rose red |
Brand
VOOPOO
Share quality technology with the world VOOPOO uses innovative technologies and thoughtful design to endow technological products with creative ideas and trustworthy experiences.In addition, by sharing the cross-regional and cross-cultural products with global customers, the Company helps build a better world with elements of technology and intelligence.