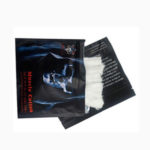 Organic Cotton Demon Killer Muscle
€5.00
Description
Organic Cotton Demon Killer Muscle
Cotton Fiber for RTA RBA RDA RDTA Atomizer
100% Tasteless
Organic Cotton specifics:
Model Number:  Demon Killer Muscle
Compatible Model: rda atomizers
Material: Cotton
RBA,RTA,RDA,RDTA atomizers
Details:
First of all this is and original Organic cottonDemon Killer Muscle.
There are large fibers for Low-ohm Builds and there are also no chemicals, pesticides,
or bleach in this cotton and therefore there is no need of boiling it first.
Because is 100% Tasteless Cotton Wick it gives you the purest taste without any unwanted flavor
and with no break-in period needed.
And finally in one bag of Demon Killer are 10 strips of cotton.
Packing items :
1 x OrganicCotton Demon Killer Muscle bag