Description
Brand
Reviews (1)
Description
HG2 3000mAh LG 3.7V
18650 Battery Cyprus
HG2 3000mAh LG 3.7V 18650 Battery Cyprus specifics:
Brand Name: LG
Model Number: HG2
Type: Li-Ion
Nominal Capacity: 3000mAh
Size: 18.35mm*65.28mm
Top: Flat Top
Weight : 47g
Certification: CE ROHS
Max. Discharge Current: 20A
Cell Surface Temp: Charge 0 ~ 50C Discharge -20 ~ 75C
Color: Chocolate
Details  18650 Battery Cyprus :

First of all this is an original LG 3.7V battery.
The capacity is of 3.000 mili-amp (mAh).
Because of that this battery hast the highest capacity for a true high-drain (20A+) cell.
Furthermore the nominal voltage is standard for all 18650 batteries.
Therefore the voltage is of 3.7V.
Another factor is that A 1.5A fast charge is good.
But remember that hence to that it will decrease the cycle life.
Last factor the battery comes in chocolate color.
Finally you can find these eateries at vapemodbox.com online.
You can also find them at our shop in Paphos.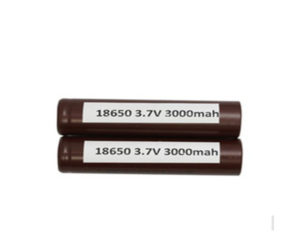 Packing items:
1 x LG 3.7V 18650 Battery Cyprus 
NOTE:
Because this is an electronic device, you have to handle it with care.
A very important rule of battery safety is not to exceed the amps on it.
Another point is that you have to check how the mod chargers.
Because there are some mods that charge via USB and others have the USB only for hardware updates.
Most important is that you will NEVER carry the batteries loose in your pocket always use a battery case!!!
Finally you will need to buy quality products. vapemodbox.com sell only quality like Samsung batteries and Sony.
As a result you can always order the batteries and charger from here.
Info:
Because we work online and we want to help other companies,
those who want to order "whole sale" the price changes.
Therefore please contact us if you want to by more batteries.