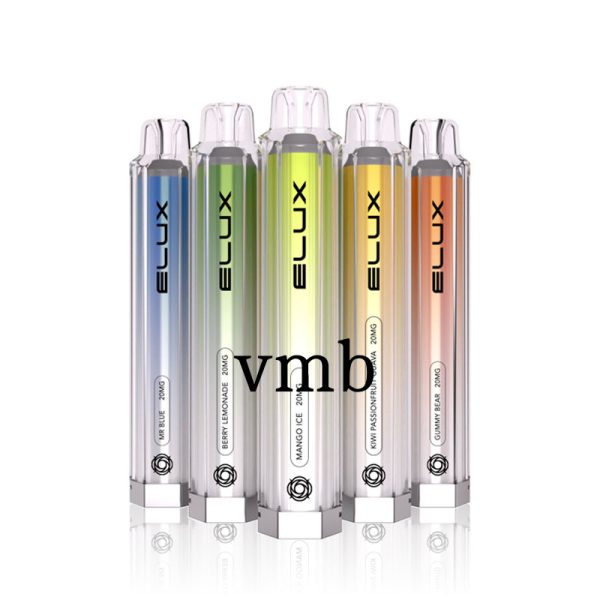 Disposable Vape Elux Cube 600
€6.50
Description
Additional information
Description
Disposable Vape Elux Cube 600
Disposable Vape Elux Cube 600 Specifics:
Brand: Elux
Model: Cube 600
Type: Disposable
Dimensions: 112mm x 18mm
Battery: built-in
Capacity: 500mAh
Puffs: 600 puffs
Design: Crystal Clear
Nicotine:(2%)
Flavors: 10 different flavors
Details:
The Disposable Vape Elux Cube 600, manufactured by the brand Elux, is a popular choice for vaping enthusiasts seeking convenience and a satisfying vaping experience.
This compact and sleek device measures 112mm x 18mm, making it highly portable and easy to carry around.
One notable feature of the Elux Cube 600 is its built-in battery with a capacity of 500mAh.
This ensures that users can enjoy a long-lasting vaping session without worrying about running out of power.
Additionally, with its impressive 600-puff capacity, users can enjoy multiple sessions before needing to dispose of the device.
The design of the Elux Cube 600 is aesthetically appealing, boasting a crystal-clear appearance that adds a touch of elegance.
This visually pleasing design enhances the overall vaping experience, allowing users to enjoy their favorite flavors in style.
Speaking of flavors, the Elux Cube 600 offers a wide range of choices with 10 different flavors available.
Whether you prefer fruity, minty, or dessert-like flavors, there is something to suit every palate.
In terms of nicotine strength, the Elux Cube 600 contains 2% nicotine, providing a satisfying hit for those who crave it.
This nicotine level strikes a balance between delivering a smooth vaping experience and satisfying nicotine cravings.
When it comes to convenience, the Elux Cube 600 excels.
Its disposable nature means that users do not have to worry about refilling e-liquid or changing coils.
Once the device is depleted, it can be easily discarded, making it a hassle-free option for vaping on the go.
In conclusion, the Disposable Vape Elux Cube 600 offers a compact, sleek, and hassle-free vaping experience.
With its built-in battery, impressive puff capacity, crystal-clear design, variety of flavors.
And also convenient disposable nature, it is a popular choice among vapers looking for both style and convenience.
Additional information
| | |
| --- | --- |
| Flavor | Berry Lemonade, Blackcurrant Methol, BlueberryRaspberry, Cotton Candy, Fresh Mint Ribena, Jungle Juice, Kiwi Passion Guava, Red Apple Ice, Strawberry Gummy Bear, Strawberry Watermelon Bubblegum |